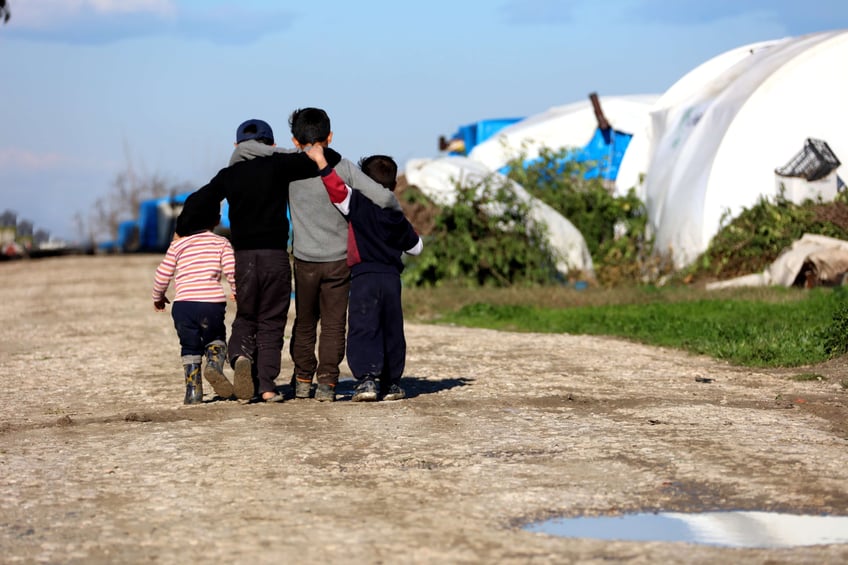 The arrival of thousands of migrants to the US border has always represented a great humanitarian and social challenge to the different administrations, which have oscillated between very restrictive and harsh policies against immigration and more flexible and receptive policies.
However, in recent times the issue has taken a relevant importance due to the massive arrival of minors up to 5 or 6 years old and adolescents, who arrive alone in North American territory. Analysts say 2021 is on track to break an all-time record and become the year with the highest number of children arriving at the border daily. Customs and Border Protection (CBP) counted about 18,890 children during March, or about 600 children per day.
But, why do so many children, minors and alone, arrive at the US border? What is it that they are looking for in the northern country that makes it worthwhile to face so many obstacles and dangers and to separate from their families, even their parents?
According to migration experts, the main reasons why these minors escape from their countries of origin are: violence and poverty (which have been deepened by the COVID-19 pandemic), crime and wars of gangs, and natural disasters. Some also flee abusive and violent home environments, and others enter involuntarily as victims of labor or sex trafficking.
Most of them (approximately 90%) arrive at the U.S. to reunite with members of their family who are already residing in the country, but others do not have any relatives or acquaintances, so they hope to obtain refugee status or some kind of asylum.
But what happens once a child enters the United States under these conditions? Children are supposed to be transferred out of CBP custody to the Department of Health and Human Services (HHS) within 72 hours. This body will be in charge of deciding on the future of the minor, that is, if it will be handed over to a relative or acquaintance residing in the country, or placed in a foster home. It is also being evaluated to grant them some type of asylum so that they can remain legally in the country, although they also run the risk of being deported.
However, in the face of the barrage of children arriving every day, Biden administration has been forced to quickly build improvised "shelters" along the border to contain these children and take them in until HHS decides their future. which can take several weeks.
Although these facilities are called "refuge" (and they may even try to be), the reality is far from this definition: there children are crowded, locked up, sometimes without the possibility of accessing a daily shower, or even without enough food, sleeping on the floor, no space for recreation, comfort or privacy, etc.
In addition, the lack of personnel (and especially trained personnel) to attend to these issues is another irregularity that is revealed. The conditions in which children find themselves in these "shelters" often border on the inhuman since, in general, the number of minors found in each center far exceeds the capacity they have, because there are always many more children who arrive than those who leave.
More than 4,000 migrants, including many children and families, are housed in a Texas Department of Homeland Security facility, when the center has a capacity for just 250 people. Migrant children between the ages of 3 and 9 are kept separate from others and housed in a small playpen with mats on the floor to sleep on.
At a shelter that had been opened by HHS in Houston, it was reported that girls housed there (aged 13-17) were usually instructed to use plastic bags to relieve themselves because there were not enough staff members to accompany them to the bathrooms.
In addition, the lack of outdoor space meant that the girls spent most of the day on makeshift cots surrounded by boxes designed to provide some privacy from one another. Some girls who were interviewed said they had not seen sunlight in days. Others said that if they were lucky, they would go outside for 20 minutes every two or three days. The facility was also denounced for overcrowding and for not complying with the distancing measures established by the pandemic (infected girls lived with healthy ones).
At another facility located in the city of Donna, Texas, hygiene has become a major concern. Some children only bathe once a week and sometimes the soap runs out, and only shampoo is available. Furthermore, they have not been allowed to communicate with their parents or relatives.
Faced with this scenario, the refugee children in these improvised facilities built on the border are terrified, crying and worried. The massive arrival of migrant children has rapidly escalated into a humanitarian crisis. A facility of these characteristics is not a place for a child to live and develop fully. And the complaints do not end here. As if all this were not enough, there have also been reports of sexual assault in these centers.
We must become aware of this situation, we must speak out, advocate for the protection of children's rights, we must raise our voices for them, put pressure on the authorities and demand responses and action.
Violating the rights of these children, who daily escape their countries and reach the border, is also abuse. It seems that it is not enough to be left alone by their parents and find themselves in a different and new country, but also that they must continue to suffer abuse and neglect here as well. This cannot continue to happen, it is essential to protect their rights and safeguard their physical and mental integrity.
The indifference of the authorities and North American society for the welfare of these children is striking, serious and disturbing. Is what these minors commit a crime? Are they criminals who do not even deserve respect for their rights and integrity?