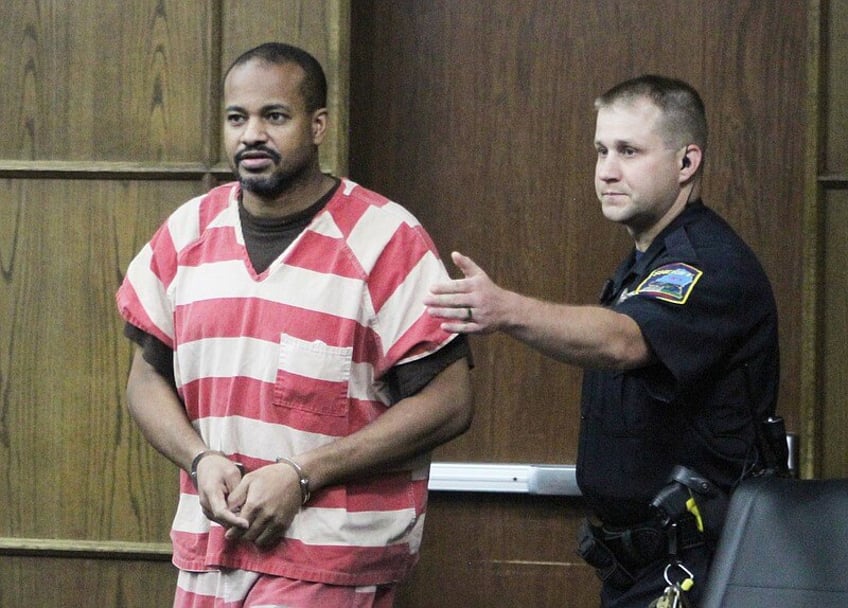 A judge has reduced the bond for a former Hamilton County elementary school teacher indicted on more than 10 counts of child sexual abuse.
"As Mr. Sanders sits here today, he's innocent," Hamilton County Criminal Court Judge Barry Steelman said Tuesday after the bond hearing, during which character witnesses testified on behalf of Duane Sanders Jr.
Steelman said that while he understood there are two sides to every case, the court had only heard good things about Sanders. The bond was reduced from $1.3 million to $500,000.
Sanders, a former Wallace A. Smith Elementary School teacher, was indicted on 10 counts of child sexual abuse in March. Shortly after his indictment, he appeared in court and said he wasn't clear on all the charges he was facing.
Sanders -- who has no prior criminal record -- has been held in custody at the Bradley County Jail since his March arrest, and according to Hamilton County District Attorney General Coty Wamp, a second indictment is being sought against him.
Allegations against Sanders involve child sexual abuse of 12 male students ages 6 to 7. Some of the boys allege Sanders touched them in their genital area over and under their clothing, with some alleging Sanders performed oral sex on them, according to the testimony of Brenda Reid Brown with the Child Advocacy Center in Chattanooga.
Steelman ordered that Sanders -- should he be able to make the new bond -- be on house arrest pending trial, wear a GPS monitor and have no contact with any young children other than his own biological children.
SANDERS' SUPPORT
Despite the original indictment and the pending indictment with additional charges of child sexual abuse, support for Sanders was strong.
"There's a courtroom full of people here for Mr. Sanders," Chattanooga attorney Jay Perry said about his client.
"He was the primary provider for his family ... it is clear that Mr. Sanders will not be a teacher, he will not be around children," Perry said. "There's no way that he's going to go back to being a teacher."
Sanders' sister, who lives in Houston, Texas, said her brother is a dedicated family man and is needed at home.
"He lives for his children," Tanya Grayson said during her testimony about her brother. "He works two jobs for his children."
Grayson further described her relationship with her brother as "tight knit" and told the court Sanders "was not the type of person to make it in a jail situation" if he didn't know his family was taken care of.
"He's such a family guy," Grayson said. "Jail is not the place for him."
Sanders has been the primary breadwinner in his household, with his wife being a full-time homemaker, caring for all five of their children, three of whom are now older than 18, and twins who are under the age of 12.
Chase Sanders, Sanders' eldest son, called his father the glue that kept the family together.
"Who you see today is a reflection of my father," Chase Sanders said. "I strive to be just 10% of the man my father is."
The former teacher's father, Duane Sanders Sr., took the stand and said he would be willing to have his son come work for him as a locksmith, should his bond be reduced.
Sanders Sr. testified his son had always worked, having worked for McDonald's, even while he was a teacher, for at least 30 years, saying he'd made him proud.
"That's a fine young man," Sanders Sr. said. "Makes his father very proud, very proud."
Sanders Sr. further testified that the allegations against his son were a surprise to him, saying there was "no way" his son could do what he's been accused of.
"The children loved him," Donna Horn, former Hamilton County teacher and school board member from 2011 to 2015, said during her testimony.
Horn – who testified to teaching Sanders' children – said Sanders began volunteering in her class after his shift at an area McDonald's and was the children's favorite. Horn further testified that she was shocked and cried when she heard about the allegations against Sanders.
"I know this man," Horn said. "I don't believe it."
Another character witness, Amanda Lopez, testified to knowing Sanders for more than 20 years, and said he was always "generous, nice and committed towards others."
In response to the supportive testimony for Sanders, Wamp said it was only natural that he was liked to gain the trust of children.
"This is what sex offenders do," Wamp said. "Of course, Mr. Sanders was liked."