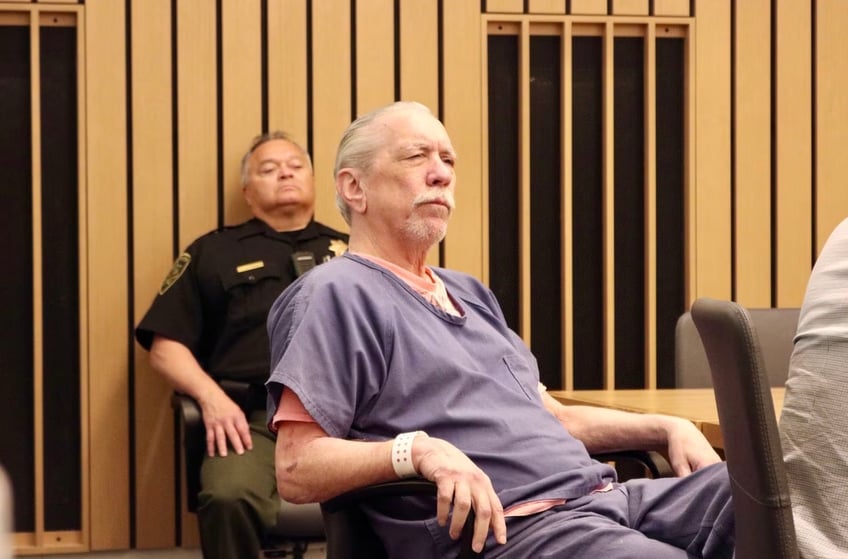 An Oregon alternative church leader who has been convicted three times of sexually abusing the daughter of one of his congregants was sentenced Tuesday to 13 years and four months in state prison.
It's been more than 25 years since seven women and girls first told Portland police that they were sexually abused by Michael G. Sperou and described how he transformed an insular Christian church in Southeast Portland into a cult of personality.
Many of the women's relatives still support Sperou.
"The defendant was not just grooming the children; he was grooming the church," Multnomah County Deputy District Attorney Chuck Mickley said.
Prosecutors initially declined to bring charges against Sperou in 1997 but indicted him in 2014 after giving the case a second look. By then, all but one of the cases had passed the statute of limitations.
Sperou's first trial the next year eventually was overturned because witnesses referred to the women as "victims." A second jury convicted Sperou in 2020 but the 11-1 decision was overturned after the U.S. Supreme Court banned non-unanimous verdicts
Five jurors from the third trial held last month were among the dozens who packed the courtroom for the sentencing, including two rows of Sperou's supporters.
Also present were many of the women who had accused Sperou and their backers. They called for Sperou, now 72, to finally repent and face accountability.
Bryn Courtright, 38, said she was regularly sexually abused from ages 5 to 12 while living in what was then known as the Southeast Bible Church when Sperou required her to watch TV while lying in his bed.
"I was terrified during every moment," Courtright told Sperou. "But you were too stupid to think about how little girls grow up to become strong, confident women — and they were going to come for you."
Sperou didn't speak during the sentencing.
Defense attorney Steven Sherlag said Sperou maintains his innocence and plans to appeal his conviction because the third trial included testimony from two of the women whose accusations were past the statute of limitations.
"He will return to court for a fourth trial," Sherlag said.
Sherlag made an unsuccessful attempt during the sentencing hearing to convince a judge to grant bail and allow Sperou to remain out of custody while he plans the appeal.
Arguing against the defense attorney's proposal, Mickley said Sperou has continued to prey on his congregation by developing an inappropriate relationship with a woman who has a 10-year-old daughter.
The prosecutor played jail call recordings of the two appearing to engage in flirtatious banter and laughingly suggesting that the woman Sperou was convicted of abusing should die of an overdose.
Sherlag described the joke as "dark humor" and said everyone in the church expresses their love for each other.
Under subpoena by prosecutors, the woman said she watched TV with Sperou in his bed once a week when he was formerly out on bail. In separate testimony, the woman's fifth-grade daughter said she had never met Sperou but hopes to someday, as she's been told he's gentle and kind.
"The sickness that was in this church is still as present today as it was when the crimes were committed," Mickley said.
Circuit Judge Andrew Lavin sentenced Sperou to more than 13 years for two counts of first-degree unlawful sexual penetration, with credit for time served. Lavin ruled Sperou ineligible for other sentence reduction programs and ordered him to register as a sex offender.
"I'm very concerned about a child still living in the congregation," the judge said. "The comments wishing the victim dead disgust and anger me … however it's not my role to impose a sentence based on disgust or anger."