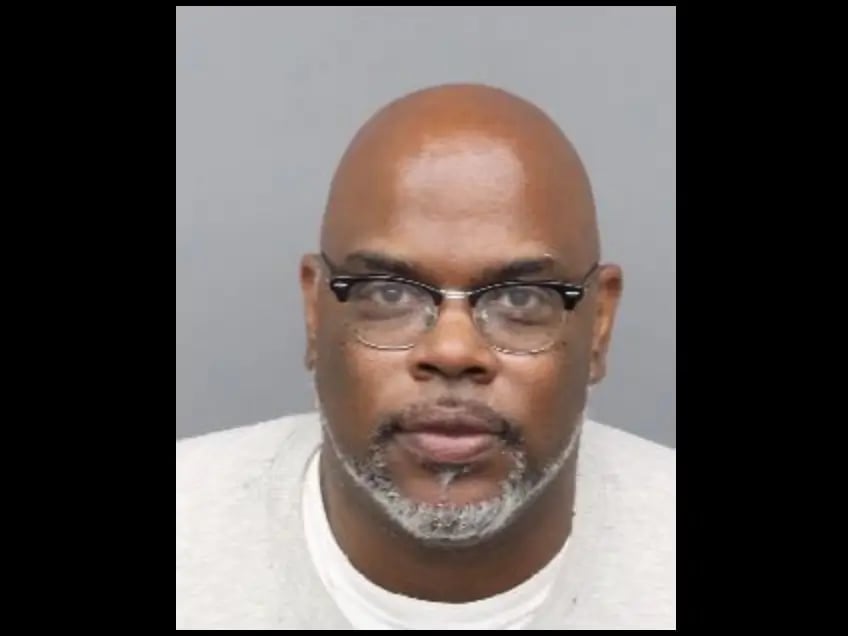 SAN JACINTO, CA — A San Jacinto City Council member arrested in Lake Elsinore over the weekend on suspicion of abusing two children was in court Thursday to answer charges.
Council member Brian Eugene Hawkins, 44, pleaded not guilty at the Banning Justice Center to two counts of abusing/endangering/wilfully harming a child. He was arrested on felony charges, but the filed charges are misdemeanors.
Hawkins is next due to appear Aug. 17 for a trial readiness conference.
He was jailed at Riverside's Robert Presley Detention Center in lieu of $200,000 bail. Prosecutors argued for the high bail but on Thursday the amount was reduced to $5,000.
Hawkins is a convicted felon. In 2004, he was found guilty on four counts of felony petty/grand auto theft and he had prior convictions, according to court records.
Hawkins was arrested shortly before 5 p.m. Sunday on Hibiscus Lane in Lake Elsinore, jail records show. The street is located in a residential community off Railroad Canyon Road, just south of Canyon Lake.
A Riverside County Sheriff's Department investigation into Hawkins began earlier in the day at 12:39 p.m. when the agency's dispatch center received a call about a domestic incident at a home in the 400 block of Mistletoe Avenue in San Jacinto.
According to the sheriff's department, Hawkins allegedly assaulted two children at the residence. The department did not disclose Hawkins' relationship, if any, to the youth.
The city of San Jacinto released a statement about the arrest.
"As this is an ongoing criminal investigation, the City of San Jacinto is unable to provide further details or comment on the matter at this time; however, the city takes the allegations against Mr. Hawkins seriously. The city has agreed to assist in the investigation should assistance be requested," the city announcement read.
Hawkins was elected to the City Council in 2020.
The next City Council meeting is scheduled July 18.
In 2022, Hawkins made an unsuccessful bid for Congress as a Republican against Rep. Raul Ruiz, D-Coachella Valley.
Earlier this year, Hawkins filed papers to run for Congress in 2024 as a Democrat against Rep. Ken Calvert, R-Corona.
According to his LinkedIn biography, Hawkins is a pastor.
Earlier this year, Hawkins was at a Temecula Valley Unified School District meeting amid a heated discussion about critical race theory. He allegedly came to the aid of a young Black student. Read more here.
Last year, Hawkins spoke to Patch about gun violence. Read more here.
Hawkins was not the only City Council member to be arrested over the weekend: Riverside City Council member Clarissa Cervantes was taken into custody Saturday on suspicion of misdemeanor driving under the influence.
The 32-year-old Cervantes was arrested by the California Highway Patrol at around 1:20 a.m. Saturday on Eighth Street and Interstate 10 in Banning, according to jail records.
"Last night, I made an irresponsible decision that I deeply regret. I take full responsibility, and I want to apologize to my family, my community, and the residents of the district that I represent," Cervantes said in a statement provided to the Southern California News Group.
Cervantes was booked at the Larry D. Smith Correctional Facility on $5,000 bail and was released the same day.
Her next court date was listed for Aug. 30.
Cervantes represents Ward 2, which includes the campus of UC Riverside and Sycamore Canyon Wilderness Park.
Last September, Cervantes filed a libel lawsuit against Riverside County Sheriff Chad Bianco over comments he made on social media about her.
The suit, which seeks unspecified damages, alleges that the sheriff's comments were false and caused "immense harm" to Cervantes' reputation.