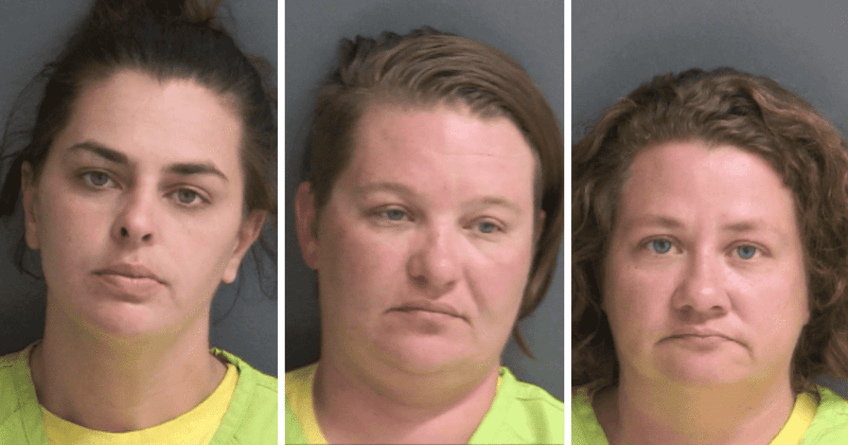 TEXICO, NEW MEXICO: Three New Mexico women, Jaime Sena, Jayme Kushman and Lora Melancon, were arrested in 2022 for allegedly abusing six children between the ages of five and 16 in a Texico home. The trio reportedly faces at least 50 separate criminal charges in relation to the case, the Law and Crime Network mentioned.
Kushman and her partner, Sena, were the first charged after state cops and CYFD saw the six children living in poor conditions and chained to a bed inside the home during a July 2022 visit.
Shortly after the couple's arrest, Melancon was also charged on allegations of abusing the children while dating Kushman back in 2016. As per the latest update of the case, Sena and Kushman were ordered to stay behind bars until their trial. Sena began fighting against her pretrial detention earlier this year but a hearing on the motion is yet to be scheduled, as per KRQE News.
Who are Jaime Sena, Jayme Kushman and Lora Melancon?
Sena, 30, and Kushman, 38, a couple from New Mexico were arrested in 2022 on charges of child abuse after New Mexico State Police unearthed videos that purportedly the six children being beaten, starved and chained to their beds in a Texico residence under Sena and Kushman's jurisdiction. When New Mexico State Police and CYFD visited the Texico home in July 2022, they came across sewage, no running water and chains, which the children said were used to keep them in bed.
The discovery led to the arrest of Kushman and Sena, KRQE News reported. All six children were eventually rescused and removed from the residence. Following their arrest, a third woman, Melancon, 42, was also arrested in relation to the case. Reports revealed that several people came forward to share that Melancon also abused the children while dating Kushman back in 2016. According to New-Mexico based KOB station, both Sena and Melancon were formerly romantically involved with Kushman.
Court documents said that the three women cared for the children during their respective relationships. Some among the six children were reportedly their own offspring and others were reportedly in need of shelter. The children included a neighbor, Sena's children, Kushman's niece and nephew whom she was granted guardianship of, and a boy from Texas that she got guardianship of from the CYFD. Several of these children did not attend school under the care of the women, legal papers revealed.
The filing also accused Kushman of beating some of the older children with a paddle, occasionally leaving bruises all over their bodies and punching them in the face. Multiple defendants were also accused of withholding food from the children. Officials believed two of the six children were often chained to their beds overnight and were even shackled for days at a time. The women also allegedly punished the children by locking them in dog cages in extremely cold weather and forcing them to stand in a corner for several days. Investigators revealed that some videos from the home contained audible screams likely a result of the sounds of the children being beaten.
One investigator claimed that he saw a boy's face "being smothered in his own vomit" in one video. Other law enforcement officers claimed that some pictures showed two children "eating spaghetti from inside a filthy bathtub with their bare hands and naked." Court documents also suggested that officials failed to catch the three women earlier despite witnesses' efforts to report the situation as they were allegedly tipped off about various inspections made by authorities the CYFD.
What are the charges against Jaime Sena, Jayme Kushman and Lora Melancon?
Sena and Kushman each are facing 23 charges each, as per Curry County jail records obtained by Law and Crime Network. Both of them have been accused of 21 counts of child abuse, and one count of conspiracy to commit child abuse, each. The pair is also accused of one count of obstructing the reporting of child abuse and obstructing a child abuse investigation, respectively.
Melancon was initially facing five felonies related to child abuse. She currently stands accused of three counts of child abuse and one conspiracy charge. She was reportedly let out on bond after being initially arrested while Sena and Kushman were ordered to remain in jail. The state filed pretrial detention motions for both Sena and Kushman and said they were dangerous. "Given what we have seen over that period of time, the consistentness of it indicates an individual who is not going to follow what this court is going to order," Prosecutor Brian Scott Stover reportedly said.
Defense lawyers for both Sena and Kushman argued that the women should be released due to their lack of criminal history. However, the court did not comply with the demand and ruled both will stay behind bars until their trial.